Wow, are you drooling yet from your previous blog tour stops?
I sure enjoyed Elizabeth Sharp's collection of Warlocks. I'll continue your tour of supernatural hotties with the Fae. I was quite excited when I selected the Fae but I have to admit finding 10 movie or Television hotties proved more challenging than I'd expected because so may of my Fae hotties haven't made the jump from the pages of a book to the big screen. Also, in cinema and TV fairies have traditionally been female. Finally, I had to separate the Fae from the elves eliminating dear Legolas. I'm sure you spotted him on Christine's page. In the end I probably stretched the definition a bit but I wanted to provide a sufficient selection of hotties, both male and female in the tradition of fairies, so who can blame me? Without further ado here are the top 10 Fae (mostly).
10. Mickey Rooney as Puck (Robin Goodfellow) in the 1935 film version directed by Max Reinhardt
9. The Blue Fairy from Walt Disney's Pinnochio
8. Tom Cruise in 1985's cult classic Legend - This is where the mostly comes in. Tom is Jack o' the Green a reclusive forest dweller who can find unicorns and is accompanied bu Fairies in his epic quest. Fairy companions? Forest dweller with a cute name? Sounds like a Fairy to me!
7. Oberon & Titania: Rupert Everett and Michelle Pfeiffer, a hot couple in 1999's - A Midsummer Night's Dream
6. Claudine Crane from True Blood - Sookie's Fairy Godmother portrayed by Lara Pulver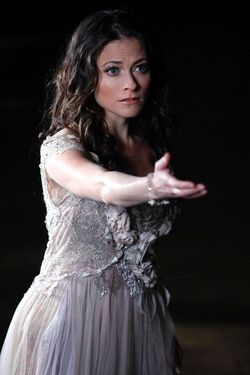 5. Claude Crane, True Blood Season 4 - Neil Hopkins
4. The Ash: Cle Bennett on Lost Girl
3. The Tooth Fairy: Dwayne "The Rock" Johnson
2. Lochlyn, Vincent Walsh: The new leader of the Light Fae, Lost Girl
1. Tinkerbell - you can't argue with the original Disney Fairy in her little green dress with a touch of Pixie Dust
I hope you enjoyed this post and your supernaturally hot tour! I'd love to here your suggestions for Fae I'm missing in my top 10. If you want to see the hotties again or began the tour somewhere in the middle the tour starts with:
http://www.lizschulte.com/2012/02/supernaturally-yours.html
Thanks for visiting!
MG